1. What is the difference between oil, wall paint, and enamel paint?
What is the difference between oil and wall paint and enamel paint?
If you want to take on the task of buying materials for your interior painting project or just want to understand the products your painter is buying, you need to know that there are certain surfaces that require specific types of paints, and you really can't make substitutions if you want reliable results.
2. The more you paint, the more you know
Over the years, we've seen plenty of people take shortcuts in their interior painting. In a misguided attempt to save money or time, they end up buying the wrong products for the job. This inevitably leads to rapid fading, yellowing, cracking, peeling, and detracts from the durability they could have. We want you to avoid adding extra cost and work to your project, so keep reading to learn how to buy the right paint for your projects!
You see, wall paint shouldn't be used on trim, doors, and cabinets.
Enamel paint is more pricey, so while it's great where wall paint isn't, you wouldn't want to cover large surfaces with it.
And oil paint comes with a whole set of issues, so you'll want to know what you're getting into before deciding to fill your home with it.
All of these products were chemically formulated to bond to different primers, paints, and textures to have a lasting bond that can handle the daily wear and tear of life or the elements. They weren't formulated so specifically for nothin'!
Over time, painters found that different surfaces have various needs, so that's why there are multiple options to choose from. Let's go over some of the most common types of paint needed for most jobs.
3. Emerald Designer Edition wall paint
What is the difference between oil and wall paint and enamel paint?
We've previously talked about Emerald Designer Edition wall paint, which is an outstanding paint for the walls in interior painting, but not really preferred for anything but – such as wooden cabinetry, trim, or doors.
This is what we'd call a luxury wall paint; it dries with a softness that enriches each room that it's in, gives you brighter whites, and brings out deeper tones when trying to capture vivid colors in your home elevating the ambiance for a lush feel.
4. How Emerald Designer Edition Shines
5. Where Emerald Designer Edition Fails
Wall paint with exceptional performance.
Great coverage, leaving no brush or roller marks
Gives you brighter whites & vivid colors
A latex paint that dries soft, smooth, and velvety
Contains antimicrobial properties which prevent mold and mildew from growing on the paint surface
What you don't need to do with this awesome paint is use it on trim, doors, or cabinetry. Just because it's outstanding wall paint doesn't mean you want to use it on every surface. It will perform horribly on trim, doors, and cabinetry because it doesn't harden like an enamel – it simply wasn't designed for this purpose.
So if you want luxe interior painting, go for Emerald Designer Edition for your walls, and find a great enamel finish paint for your trim, doors, and cabinets.
6. All about enamel paint
What is the difference between oil and wall paint and enamel paint?
You'll find your painter recommending enamel paints for those high-traffic areas in your home that are susceptible to more wear and tear, like your trim, doors, and cabinets. Leaning on doorframes, opening and closing cabinets, maybe you have a kid who's really into karate and practices by kicking your door open first thing in the morning – I'm just an auntie and even I've seen it happen! And if you've ever tried to move a piece of furniture from one room to another, you know doorways can take the brunt of accidental bumps and scrapes.
The great thing about enamel paint is that it's extremely durable. ProClassic Interior Acrylic Latex Enamel dries smooth, hard and can withstand regular nicks and scrapes. You can easily clean enamel paint without worrying about it losing its luster over time.
When it comes to cabinets and doors, enamel paint is known for being non-stick, so you'll have smooth, seamless transitions when opening and closing doors. No sticking with enamel finishes, as opposed to softer paints that may want to bond together.
Most wall paints are going to be cheaper than enamels. Enamel paint is generally a little more expensive, but for trim and doors, you're not going to need nearly as many gallons as you would for a room of walls. That small investment pays off in the way enamel performs.
7. Oil-based paint
What is the difference between oil and wall paint and enamel paint?
Sometimes, you'll go into an old home and notice their trim and doors are an ugly yellow color, but it's unlikely they chose that color, to begin with.
This is what happens with oil-based paint as it ages; the bright white color you started with loses its brightness and begins to dull over time. Some oil-based paints will yellow in as little as three years!
Besides the poor way that oil ages, there's also the fact that oil-based paints emit harmful VOCs that can lead to harmful health issues.
Above all else, the smell of oil paints is what customers complain about the most. Even if you're a pro who's been painting for a long time, if you're working with oil-based paint all day, you'll probably end up with a headache unless you're wearing a respirator.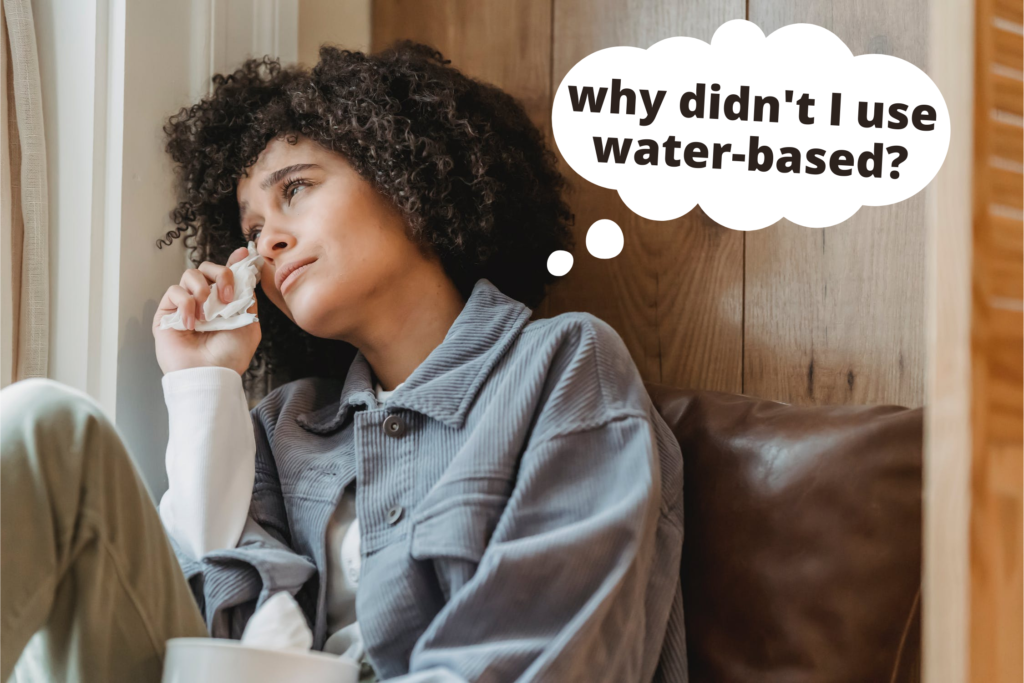 It's not just the modern homeowner that wants to avoid oil-based paints. Manufacturers and painters alike are trying to get away from oil-based products as much as possible; oil-based paints can be a hassle to replace.
There's a specific process it takes to make the transition to water-based. If you try just to cover oil with water, you're in for a disaster. You have to use a primer first or specialty products. We go over this in our post "Oil-Based Vs. Water-Based Paint: One Rule Painters Never Break".
Because of the repainting issues, clients sometimes decide to just stick with oil-based products. In this case, we choose Sherwin Williams ProClassic Interior Oil Based paint because it takes around a decade before you see yellowing and fading.
---
8. Want to know what kind of paint you will need for a project?
Now you know the difference between paints for walls, trim, cabinets and doors, but what about brick painting…? Learn more in our blog about the best masonry paints out there today!
A room painted with dark shades of black or charcoal paint is a room full…